Creole cuisine is a blend of flavors, spices and recipes of different origins. Our top 10 to try before you leave.
Cod or malanga (vegetarian) acras
Often served with a spicy sauce, these fritters made with fish, usually cod, seafood or root vegetables, are flavored with spices and chilli peppers and can be enjoyed as an aperitif.
Creole-style black pudding
Made mainly from pig's blood, bread, West Indian bay and various herbs and spices, this is a very old charcuterie dish.  It is traditionally eaten at Christmas.
Smoked chicken
For this typical dish, the poultry is first marinaded, then smoked over a sugar cane barbecue. It is served with "dog" sauce (made of onions, chilli peppers, oil and lemon), rice, and yams or sweet potatoes. Mouthwatering!
Planteur punch and ti-punch
The sweet and fragrant Planteur punch is a cocktail of fruit juice, cane syrup, Angostura bitters, lemon and white and mature rums. For spirit drinkers, ti-punch is neat rum with cane sugar and lemon. Alcohol can damage your health.
Coconut sorbet
This is a delicate artisanal icecream obtained from fresh coconut flesh which is pressed and flavored with cinnamon, vanilla and lime zest, using an icecream maker equipped with a crank handle. Be sure to try it!
Coconut egg custard
Proposed for dessert in restaurants and on sale in every bakery, this egg custard with coconut is deliciously fresh.  It is served with a caramel sauce.
Spices
Star aniseed, cumin, colombo, cinnamon, nutmeg, "vegetarian" chilli pepper, annatto… spices are used to flavor fish, seafood, meat and traditional simmered dishes. Spices make West Indian cuisine a surprising mixture!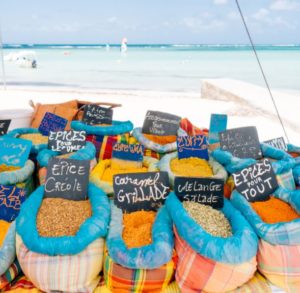 Tropical fruits
The variety of fruit available at the markets makes your mouth water. Our favorites, to be tried depending on the season, are starfruit, banana, mango, maracuja (aka "passion fruit") and coconut, not forgetting the water lemon and sugar apple.
Street food
If you're going exploring, try Guadeloupe's favorite sandwich! The bokit is fried bread roll filled with shredded cod, chicken, ham, cheese, crudités, tuna… whatever you like!
Spicy sauces
"Dog" sauce, Creoline sauce, "enraged" sauce, avocado sauce, smoked-fish sauce, sweet-and-sour sauce…  they add flavor to any dish. Learn to use them sparingly, or they'll bring tears to your eyes!
Faustine François