Le Jardin Malanga offers you a breathtaking view of the Archipelago of Les Saintes. Now is the time to discover these islands, located just a few dozen minutes by boat from Trois-Rivières.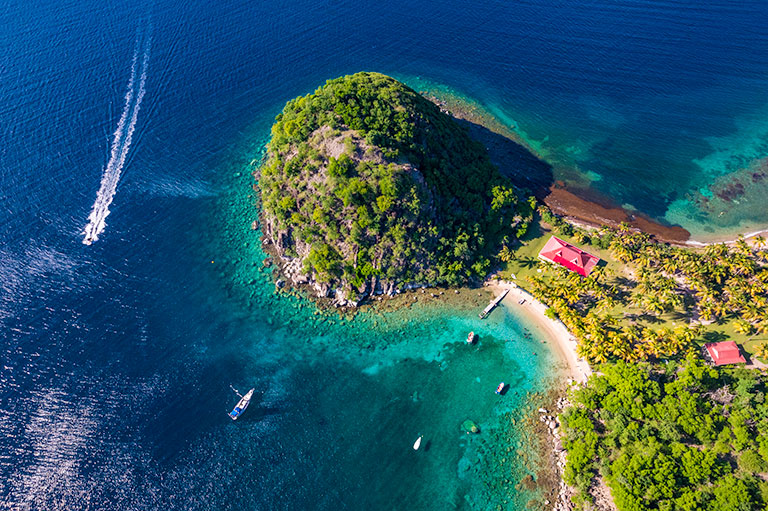 Considered to be one of the most beautiful bays in the world, this small archipelago is made up of Terre-de-Haut, Terre-de-Bas and 7 rocky islets.
Over there, forget about cars, pollution, the world and the stress of big cities… With its small white houses with red roofs, its country church and its fishing port, the village of Terre-de-Haut stretches out all in length. People of fishermen, the Saintois have managed to keep their authenticity and their charm through the centuries.
Les Saintes is also an archipelago that has been marked by history. Christopher Columbus discovered the archipelago in 1493. It is at Fort Napoleon, nestled on the hillside, that you will discover the history of the archipelago and admire one of the most beautiful views of the bay.
Go now through the streets of Saintes and let yourself be enchanted by the charm of the site. From Pompierre Beach to Anse Rodrigue or from Figuier Beach to Anse Crawen, you will come across paradisiacal places that will make you appreciate the tranquility and change of scenery.
And if you want to extend this parenthesis of happiness away from the sounds of mopeds, Terre-de-Bas remains the wildest island, ideal for hiking enthusiasts.
So don't wait any longer, and come dream!